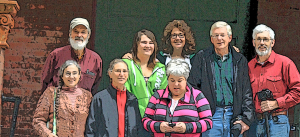 World Wide Photo Walk

  10:00 am Saturday Oct 11

  Bradford Public Library
The Bradford Public Library is the meeting place for this year's Bradford, VT World Wide Photo Walk. We will meet at 10:00 am Saturday Oct 11 for a two hour walk through Bradford Village. We will pass historic buildings, the river front, a single lane bridge, an old school, the Bradford Falls, take pictures and generally have fun with other photographers. The Walk is a social photography event where photographers get together to walk around a neighborhood area or place and take photos. Over 20,000 photographers will take pictures in 1000 locations world wide during the PhotoWalk day.
Folks must register prior to event at: http://worldwidephotowalk.com/walk/bradford-vt-united-states/ Look for the "Join this Photo Walk" green bar at the top right of the page.
At the end of the Walk, we will gather back at the Library to look at our own photos. Some folks may want to share their pictures with others or think about submitting their best shot in the WWPWcontest in hopes of winning a prize.
For more information call the Library at 802-222-4536, or Bud at 802-439-5397, or email bradfordpubliclibrary@gmail.com.